Hello all, welcome to the Dead by Daylight Community |OT|, I figured we should get a general thread going instead of relying on new threads about DLC information to discuss the game.
Dead by Daylight is an asymmetrical multiplayer (4vs1) horror game where one player takes on the role of the savage Killer, and the other four players play as Survivors hoping to escape.
Each game consists of the Killer, the Survivors, generators, hooks, hexes, chests, a hatch and exit gates.
Everyone playing can use usable tokens called Offerings and Skills / Perks to their advantage; these will change the gameplay in each encounter that can put the game in the favour of the Survivors or the Killers if used effectively.
Developed by
: Behaviour Interactive
Published by
: Starbreeze Studios
Release date
: June 14, 2016 (PC),
June 20, 2017 (PS4 & XBO)
The objective is simple. The Killers objective is to please the Entity by sacrificing the Survivors on Hooks. The Killer is to hunt and mercilessly kill each Survivor by hitting them, picking them up and taking them to hooks located around the map. The Entity will then attempt to steal the soul of the Survivor.
Note: The Killer can kill Survivors without using Hooks if they use a Memento Mori Offering.
The Survivors objective is to fix 5 generators located around each map which give power to the exit gates. The Survivors can then open the Exit Gates and escape. The Survivors can also escape if they locate a secret hatch that is hidden in the map when 4 Generators are fixed / 1 Survivor is left alive. A key is required unless you are the last Survivor.
Survivors have to help their comrades by taking them off Hooks so they don't get sacrificed to the big ol' Entity.
There is now a store where players can spend Iridescent Shards or Auric Cells on Costumes, Characters and the Shrine of Secrets.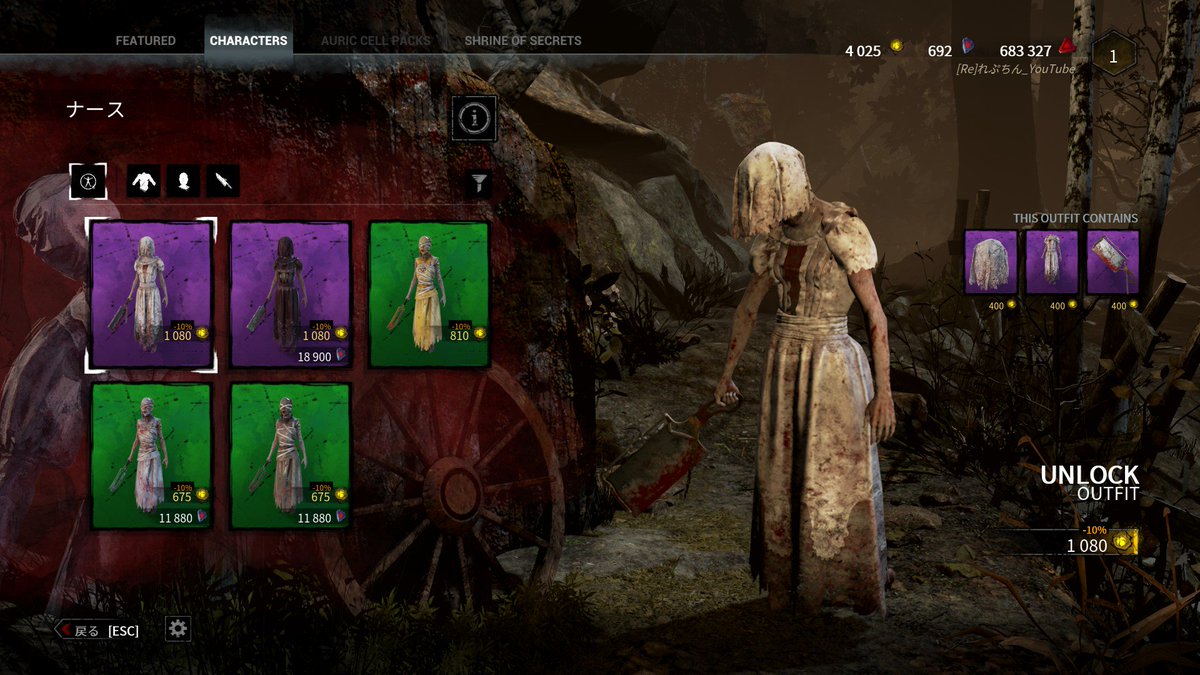 There are three currencies currently implemented in the game.
Auric Cells
are a Microtransaction type of DLC currency that can be bought from the PSN / XBL / Steam store and used to purchase Costumes, Characters and Killers from the Store.
Iridescent Shards
have been reworked into currency that players get for free when levelling up their Player Level, a new type of levelling system for your account that levels up with EXP earned from every game session you play. They are used to unlock Costumes, non-licenced Characters and Killers for free, and to be used in the Shrine of Secrets.
Bloodpoints
, these are used to upgrade your characters in the Bloodweb, allowing them to level up and unlock new Perk Slots, new Perks and Offerings to use in trials.
Each week, the Shrine of Secrets is a place players can use their Iridescent Shards to unlock Character / Killer Exclusive Perks in other characters / killers Bloodweb so that any character / killer can unlock those character / killer specific perks.
It looks a bit like this:
OnionPowder
has been incredibly kindly and very helpfully writing up guides for each weekly Shrine of Secrets and what they suggest players get, here is
their latest post
:
Shrine of Secrets for the week of 9/19:

Survivor Perks:

Ace in the Hole - Ace Visconti Perk - 2000 IS

There is a 100 % chance that an add-on of Very Rare Rarity or lower will be attached to it. 10/25/50 % chance to find a second Add-on of Uncommon Rarity or lower.

This perk technically isn't very good. It's part of a greater chest build if you're a hoarder of items (like me!) It lets you find a purple or worse add-on on any item you search through a chest, with a chance of getting a second add-on that is yellow or worse. This is the perk I'm going to buy this week, as I've been planning on a chest spec for my Feng with Pharmacy / Plunderers and Ace in the Hole.

If you are looking for actual effective perks then this one isn't for you. This one is honestly a bit of a meme. The most clutch thing you'll get is a 1 state instant heal medkit which is admittedly pretty amazing.

Good combos include: Pharmacy (Quentin Perk), Up The Ante (Ace Perk), Plunderer's Instinct (General Perk). All of these could lead you to finding super rare items, easily finding chests and getting some free add-ons with them.

Boil Over - Kate Denson Perk - 2700 IS

Your struggling effects on the Killer are increased by 25/50/75 %. You obscure the Killer's ability to see Hook Auras within 10/12/14 metres.

This perk makes it so the effects of you swaying left and right while being carried by the killer are increased. You'll make the killer bump into more walls and just generally be annoying.

At best this perk would get you off a hook because they didn't see the aura of a hook right next to them and opted for a further hook. The reality is most of the time this will just annoy the killer and not help you at all.

Good combos include: Decisive Strike - I'm struggling to find this meshing well with anything, but if you are not the obsession this could help you get to your 35% wiggle

Killer Perks:

Make Your Choice - Pig Perk - 2000 IS

When a Survivor rescues another from a Hook at least 48/40/32 metres away from you, Make Your Choice triggers and applies the Exposed Status Effect on the rescuer for 60 seconds. Make Your Choice has a cool-down of 60 seconds.

Now this is what I call a perk. This encourages you to leave a hook which is good for everybody. It also encourages you to not tunnel people off the hook. When you are far enough away from an unhook the person who unhooked will now be 1 hit down, even from full health. This perk meshes really well with somebody like The Hag, The Nurse or even Hillbilly.

Good combos include: BBQ & Chili (Leatherface Perk) as it lets you find killers who are outside the 40 meters, which would allow somebody to come in and unhook. Devour Hope (Hag Perk) as devour hope gives you tokens for people being unhooked when you're more than 24 meters away so you're getting rewarded twice.

Lightborn - Hillbilly Perk - 2000 IS


Unlike other beasts of the fog, you have adapted to light. Resistance to blindness is increased by 20/40/60 %. Recovery from blindness is increased by 50 %.

This perk is a flashlight deterrent. If you use this nobody will be able to flashlight save off of you. Best to equip when you see a squadette load in with 4 flashlights. Not a bad perk, really good when you've got some full on cancer coming at you.

Good combos include: Franklin's Demise (Leatherface Perk) just because fuck your flashlights.

My recommendations:

Survivor - None honestly. If you really want a perk pick up Ace in the Hole. Boil Over is so situational, and since it's the first time it's ever shown up on the shrine it has a 700 IS premium which makes it double not worth it.

Killer - Make Your Choice. This is a damn fine perk when used correctly. Can give you that momentum of continuously hooking people to delay the game and ensure your win.
Finally updated, sorry it took so long. :')
Last edited: